Knowlton Dental Associates Elizabethtown, PA Dentists
Welcome to our Patient Resource Page. Here you will find everything you need for your appointment including: Patient Forms and Finance information. For your convenience we also have links to our Online Patient Portal and Online Patient Store.
First appointment? Print & prepare your forms!
For new patients: during your first visit, we will review your dental and medical history forms. For your convenience these forms are available online or in PDF print format below – this way you can fill them out before arriving to your appointment. To digitally submit your forms, click the "Online Forms" button. To download and print, tap or click the appropriate form from the list below.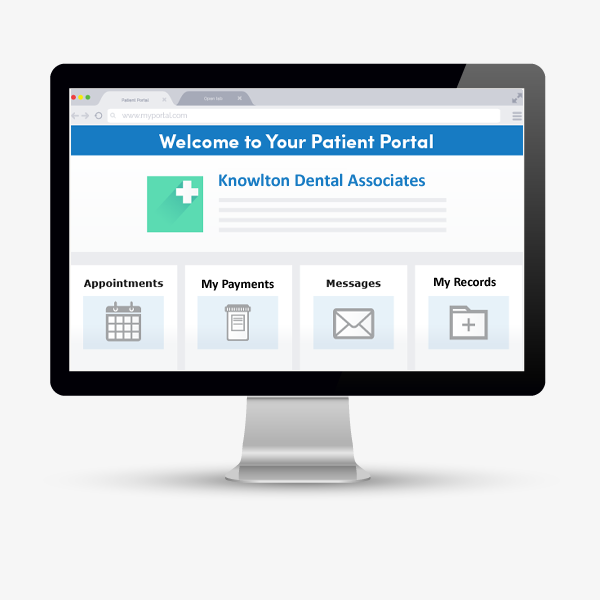 Our secure online service offers convenient features including:
Online bill pay
Check scheduled appointments & update reminders
Secure messaging to the practice
Access images, forms and documents
If you do not have a patient log in, please let us know and we will gladly help you set it up.
Ensuring Easy Access to the Best Care
Your smile is yours forever, and we want to make it as easy as possible for you to receive the best dental care when you need it. The cost of your treatment will vary depending on your individual needs and treatment plan. We will discuss with you the cost of your treatment and each of your available payment options before you begin, so that you can make the best choice for you.
Credit Cards
Our practice accepts most major credit cards including Visa, MasterCard, Discover and American Express
Insurance Plans
We accept most insurance plans, including GEHA, Cigna, Delta and more. Our office staff is always available to help you with insurance claims and paperwork. We'll work with your insurance carrier to make sure that you are properly reimbursed for any service.
Affordable Payment Plans
Further, we offer our patients the option to take advantage of special financing for their treatment through CareCredit. Just click here to apply for your own CareCredit healthcare credit financing.
Questions?
We are always happy to answer any of your insurance questions, simply call or send us a message.
Brush, Floss & Rinse Like a Pro!
Now you can order products from your home! It's convenient, safe and backed by recommendations from staff.Some of the products you can get are:
Electric Toothbrushes
Tooth Whitening
NanoHAP, Fluoride & Whitening Toothpaste
Bad Breath & Halitosis Treatment
Join the 1000's of patients we serve
Wondering how we can help you? See what our patients are saying about us.
I've been going here for 14 years, at this point the staff is like family. It's not even like I go to the dentist anymore.
Read more