Charcoal toothpaste is all the rage these days, so our team here at Knowlton Dental decided to give it a try. All of us, including our dentists, hygienists, assistants and front office tried it, taking video of our testing, as well as before and after photos of our teeth.
But before we get into our results, here is a quick primer on the activated charcoal technology in toothpaste.
What is Activated Charcoal?
Carbon based ingredients like charcoal have been used for decades by people throughout the world, to clean or whiten their teeth. Recently it has regained popularity in toothpaste by such brands as Curaprox and Magic Mud.
These products use a specialized form of carbon, called activated charcoal – it has properties that allow it to remove things like odors and bacteria from it's surroundings.
Does Toothpaste with Activated Charcoal Whiten?
For external tooth stains, it's possible to have them polished away, because they're not a physical part of the internal tooth structure. That's what happens when you use activated charcoal.
Charcoal might not be the right option for those with sensitive teeth, since it is slightly abrasive and this may cause further sensitivity. Also, restoratives like crowns, veneers, or fillings will not whiten, because they are often made of porcelain.
Our Testing and Results: How did it perform?
Curaprox was the favorite amongst our staff. It performed AMAZINGLY WELL, with great flavor and texture, as well as proving itself in the results of our before/after photos.
What was it like to brush with charcoal toothpaste?
Our video says it all. Both toothpastes were fun to brush with because they made our teeth black, and then turned them white again!
Here's what each of our staff had to say, including before and after photos of their teeth:
Katie – Front Office and Scheduling Coordinator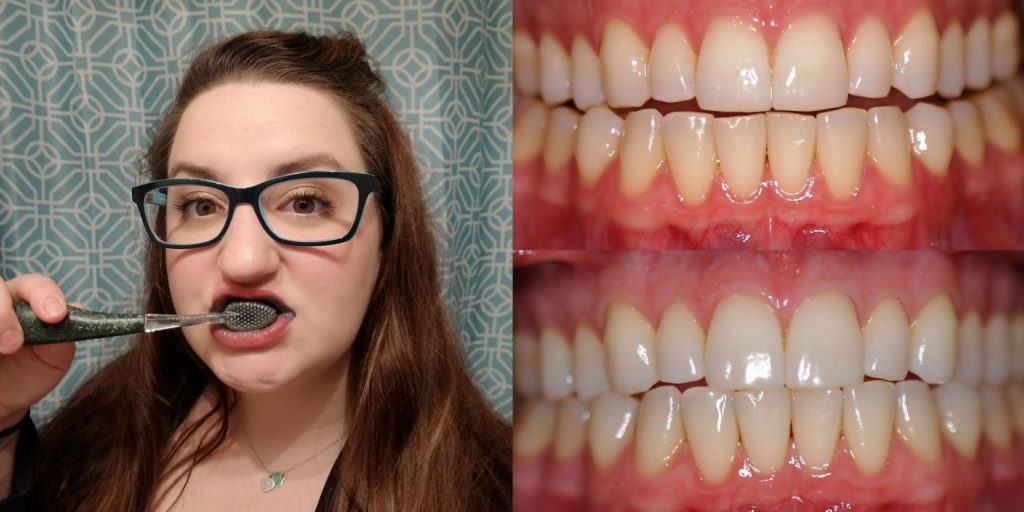 Overall, I really liked the product. I think it worked well and I recommend this product to anyone who is looking for a simple low cost whitening solution.
What I liked:
It has a great taste and texture, it leaves your mouth feeling clean and I noticed some results. I think if I used it for longer than a week, my results would be greater. Some of the girls in the office had really good results but their starting shade is a little darker than mine.
What I didn't like:
The only thing that I really didn't like is how messy this product can be. I dropped my loaded up toothbrush on the floor onto a white rug and it got everywhere! I wish I got a picture of the aftermath!
Tips for using it:
I found that it was easier to brush in the shower when I could. That way, it didn't matter how messy I was.
Alex – Dental Hygienist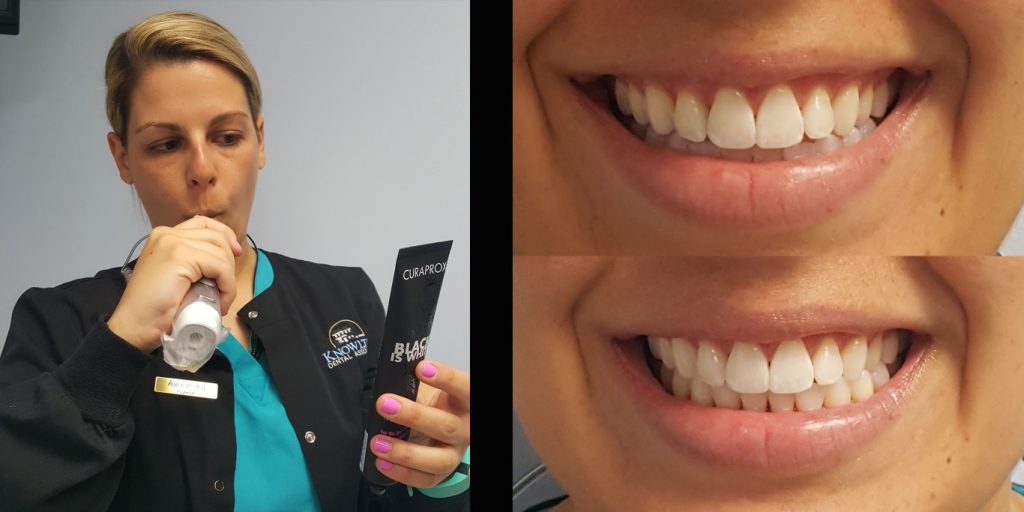 – It had a minty fresh feeling and wasn't as black as i thought it would be
– Recommended: Yes
– Results: at least 1 shade
View Alex's Profile
Erin – Dental Hygienist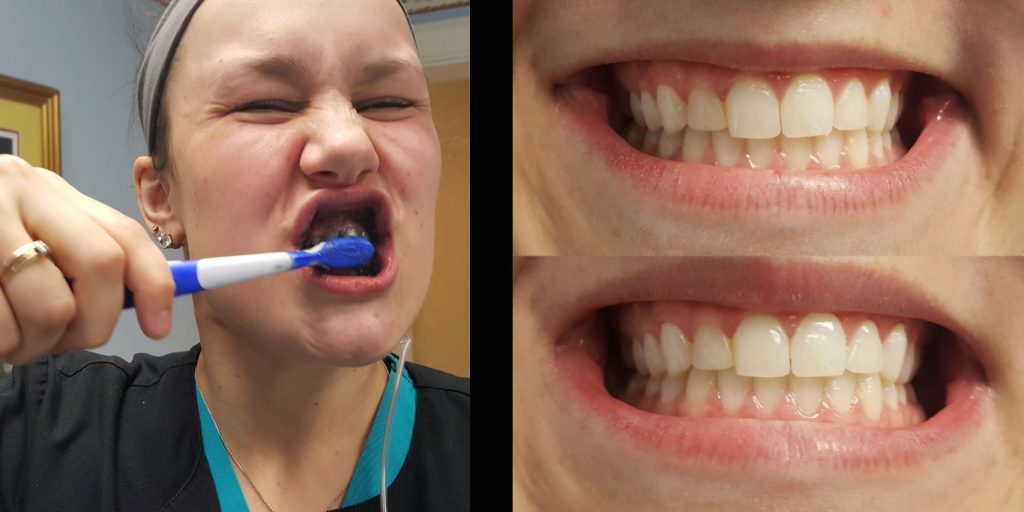 – I think it tastes minty and leaves your teeth feeling smooth.
– My favorite part about it was that it turns your teeth black but afterwards they're shiny white!
– This product is fun!
– Recommended: Yes
View Erin's Profile
Casandra – Dental Assistant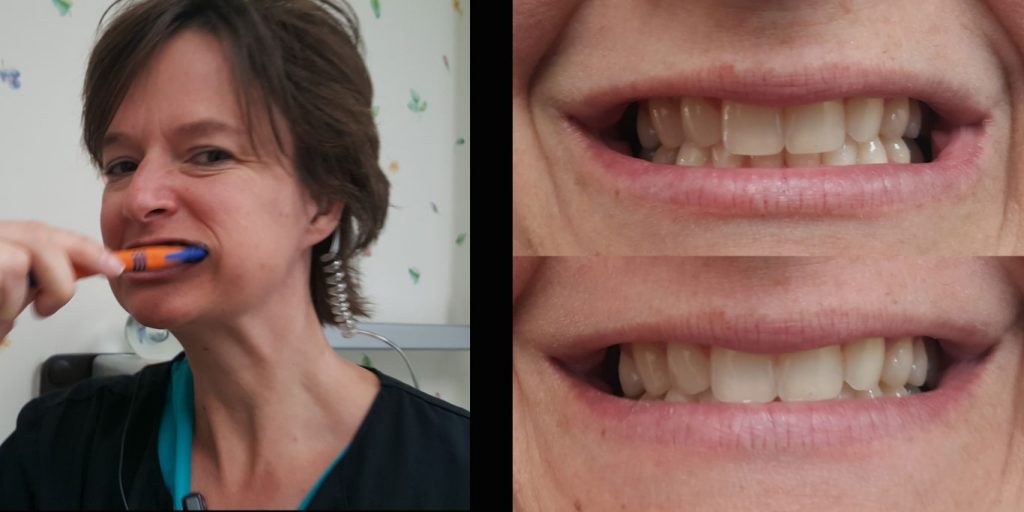 – It's minty and makes your teeth feel very smooth afterwards.
– The texture is good.
– Recommended: Yes
View Casandra's Profile
Ruby – Dental Assistant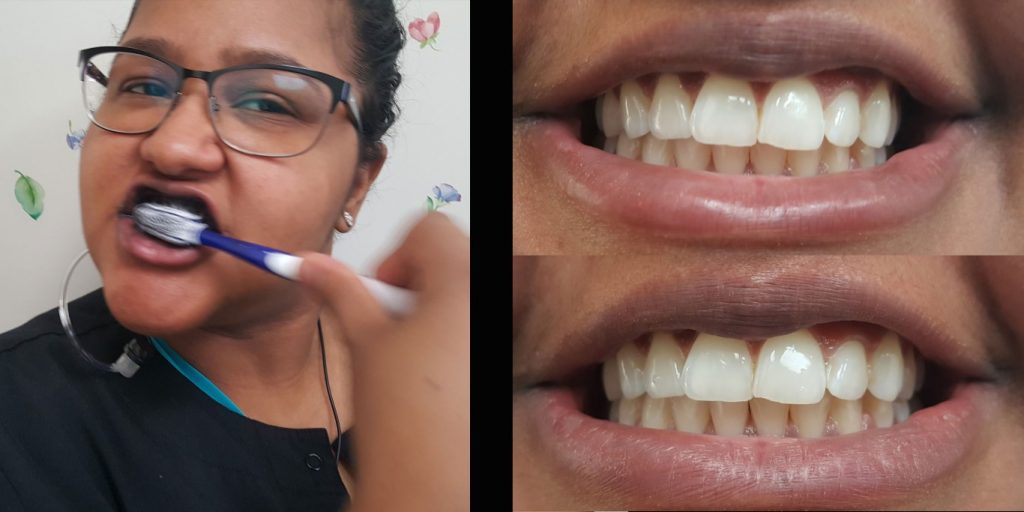 – I loved it before I even put it on – the packaging looks great.
– I like the taste and the feeling of it – it tastes minty.
– At first it was a little gritty, then it smoothed out.
– My favorite aspect of this product is the fact that it uses charcoal as an ingredient.
– Recommended: Yes
View Ruby's Profile
Stacy – Dental Assistant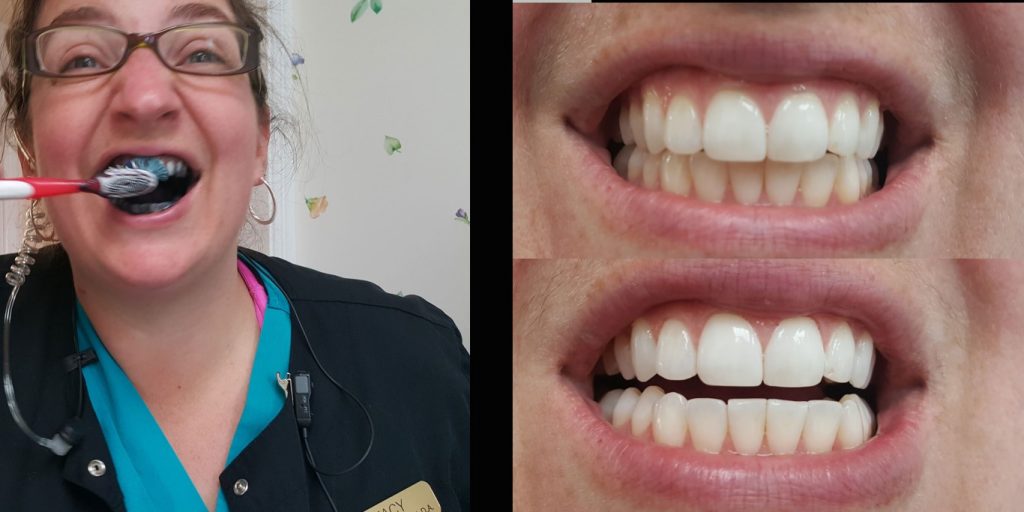 – I feel the product was good – I could definitely tell the whitening in my teeth.
– The taste wasn't bad either.
– Overall, I'd give it an 8 out of 10.
– Recommended: Yes, but I'd give anything a try to whiten my teeth!
View Stacy's Profile
Krystal – Dental Assistant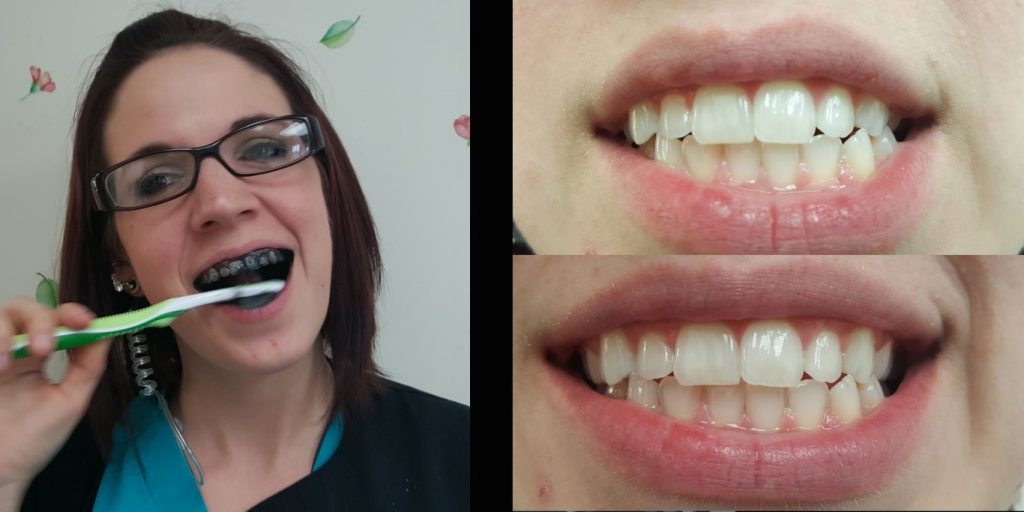 – I was very impressed: my teeth feel really clean and they look shinier.
– I would definitely use it again.
– Even though it was made from charcoal, it didn't taste at all bad – it tasted just like mint!
– Recommended: Yes
View Krystal's Profile
Where can you buy Curaprox Charcoal Toothpaste?
Patients can buy it directly on our Patient Store or at our office. Non-patients can buy it direct from DentalStores.com.
BONUS TOOTHBRUSH INCLUDED!
Patients - Buy it Here
Non-Patients - Buy it Here